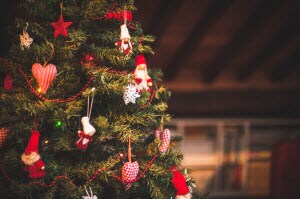 'Tis the season for glittering lights, sparkling baubles, cozy flannel jammies, and warm wool socks. Once you've hung your stockings with care, you'll need a Christmas tree to complete the festive feel of your home. There's plenty of Christmas tree shops in Mechanicsburg, PA, where you can discover the pine you've been pining after. Here's a few of our favorites!
Gruver's Tree Farm
This 24-acre farm originated in 1974, and is home to several different kinds of evergreen trees, so you can find an option with the look you prefer. Gruver's Tree Farm is a warm and welcoming place to find your Christmas tree. You can buy a pre-cut tree, or venture out to choose your own and chop it down yourself, making for a fun and memorable experience for the family. On the farm, you'll also find a selection of tree accessories to spruce up your pine, as well as handmade wreaths to brighten your front door, welcoming family and friends in for the holiday season.
McCurdy's Tree Farm
Take a hayride and enjoy activities for the whole family at McCurdy's. Check their website for holiday activities at the farm, such as the annual pig roast. Choose from a few different tree sizes, and grab a pre-decorated wreath while you're there. You'll also find all the accessories you need for a safe and long-lasting natural tree experience, such as floor guards, tree stands, and preservative spray to keep your tree fresh throughout the entire holiday season.
Rudy's Christmas Tree Farm
At Rudy's Christmas Tree Farm, you'll find four different varieties of tree to choose from, and we'll bring back even the largest trees with our trusty vintage Ford tractor. Don't miss the Christmas Craft Barn, where you can warm up with a cup of hot chocolate and browse a selection of unique ornaments, homemade holiday jams, and decorative crafts to deck out your home. Kids and leashed pups are welcome, and if they're good, they'll even get a candy cane or a dog biscuit. Purchase some farm-grown chestnuts to roast, find your perfect wreath, and pick up some jelly to spread on your Christmas morning toast.