Looking for something different to do this Friday night? Gather your friends or grab your partner, and head to a special art studio where you can create your very own work of art while you sip on your beverage of choice. These are known as "Paint and Sips," and there's plenty nearby in Mechanicsburg, PA. Here's a look at our favorites.
Amuse Uncorked Art Studio | Connect on Facebook | Twitter
101 Walden Way, Mechanicsburg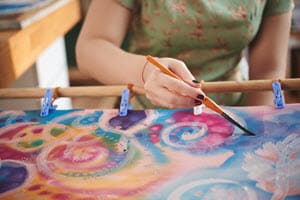 This studio is unique in that classes offered are highly personalized, allowing you to create a custom piece of art. For example, Amuse Uncorked Art Studio offers a Paint Your Pet Paint Party, where you'll send in a picture of your pet ahead of time, and when you arrive to the studio, your canvas will have a perfect sketch of your pet ready for you to paint. There's also Woodshop classes, where you'll get to build, stain, and paint your very own rustic wood sign. Bring along a bottle of wine and your friends, and you're sure to have a fun girls' night out or date night.
1 Lemoyne Square, Lemoyne
This BYOB studio is a fun experience that can be catered to artists of all ages, and you can bring along all of the drinks and snacks you'd like. No previous art experience is necessary, simply show up to Paint & Create and get ready to grab a brush and have some fun – and maybe sip on an adult beverage or two. When you arrive, your canvas, paints, brushes, and apron will be ready to go. An instructor will guide you through each individual step to recreating a masterpiece, and when you're finished, you'll have a work of art to bring home with you. Private parties are available, and make for great birthday events or teambuilding exercises.
Spritz and Splatter | Connect on Facebook | Instagram
5007 Carlisle Pike, Suite 102 B, Mechanicsburg
If you're on the hunt for a studio that's 100% artist owned and operated, you've found the place. Spritz and Splatter studio prides itself on offering small class sizes, so each guest can receive one on one attention, allowing you to create a unique work of art that you'll want to display in your home. You can also sign up ahead of time to join a class with a pre-determined painting that you'd like to recreate, or book a private party to celebrate an occasion.