Your vehicle is equipped with a wide variety of safety features, but none are more important than the brakes. Driving with a damaged braking system is extremely dangerous and increases the likelihood that you'll be involved in a collision. So, if you believe that your brakes need service or you notice any of these brake repair warning signs, it's imperative that you contact your local service center and schedule an appointment right away. Otherwise, you could be risking additional damages or serious injury.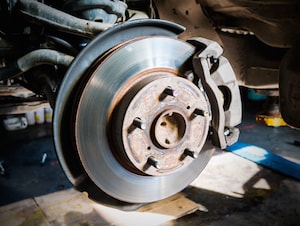 By understanding the signs of brake failure or damaged brakes, you'll be able to determine when your brakes need service. At Fred Beans Kia of Mechanicsburg, we'd like to help all our Harrisburg and Mechanicsburg area customers take better care of their vehicles and stay safe while they're out on the road.
How to Spot Brake Repair
Although other areas of the vehicle can be difficult to diagnose when a problem exists, an issue with the brakes is self-evident. There are several warning signs that could indicate brake repair is needed. Below are a few things to look out for.
Low or thin brake pads (less than a quarter inch thick)
Vibrations when brakes are pressed
Car pulls to one side when the brakes are applied
Squeaking sound
Grinding noise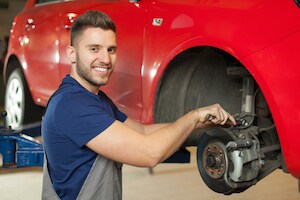 Another sign of brake failure is what's known as brake fading. Brake fading is when your brakes don't feel as responsive as they used to. In this scenario, the brake pedal may feel like it sinks to the floor of the vehicle. Brake fading could mean that there's a leak in the braking system. Any sign of brake fluid under the car should warrant an immediate service appointment.
The Importance of Brake Repair
It's important to have your brakes regularly inspected and repaired when needed to prevent and avoid potential accidents. Plus, a thorough brake inspection could uncover other issues with the vehicle that you didn't know about. Getting brake service is a great way to make sure your vehicle and your passengers are safe.
Remembering to have the brakes serviced may save you the trouble of needing major repair work done later down the road. For instance, by having the brake pads replaced about every 50,000 miles, you'll enjoy better performance from your vehicle.
Schedule Brake Repair
If you have a reason to believe that your brakes need repair, then please contact us at Fred Beans Kia of Mechanicsburg to schedule an appointment. Out team of automotive experts has been helping drivers from across the Harrisburg and Mechanicsburg areas for years. We have the skills, the tools, and the experience to fix any automotive problem you have. Schedule your appointment today.
Additional Resources: