When you're searching for your next Kia midsize SUV, one of your first concerns is probably how many Miles Per Gallon it'll get. The thing you want is less frequent fuel stops on your drives around Mechanicsburg, Harrisburg, and Carlisle, Pennsylvania.
Luckily, the Kia Sorento has you covered, and is just around the corner at Fred Beans Kia of Mechanicsburg. Read all about how the 2021 Kia Sorento MPG and fuel efficiency will keep you zipping from one destination to the next, and how you can test drive one today! All you need to do is keep reading ahead.
2021 Kia Sorento Overview

EPA-estimated MPG

24 city / 29 highway*

Seating Capacity

7 passengers with three rows

Dashboard Display

8-inch touchscreen

Standard Engine

2.5L 4-cylinder

Horsepower

191 HP
---
Kia Sorento Overview
7-passenger seating
8-inch or 10.25-inch Touchscreen with Apple CarPlay® and Android Auto™ compatability
2020 IIHS Top Safety Pick
The Kia Sorento is the ideal family-friendly vehicle. With standard third row, and seating for up to seven passengers, you'll find that the choices are many. Your total passenger space will be 105.3 cubic feet.
Plus, storage cubbies throughout, and plenty of cargo space in the back, are perfect for carting around your riders' belongings. The total cargo volume of the Sorento is 75.5 cubic feet. When the second-row seats are raised, the cargo capacity is still an impressive 45.0 cubic feet.
The Sorento also excels in terms of technology that helps keep you safe and entertained. An 8-inch or 10.25-inch touchscreen infotainment system is standard, along with driver assistance features that will give you an extra sense of security while on the road.
When it comes to dependability, Kia as a brand scores higher than the industry average on the J.D. Power 2020 U.S. Vehicle Dependability StudySM. Based on the vehicle model's dependability, the J.D. Power 2020 U.S. Vehicle Dependability StudySM ranks brands and vehicles based on the number of problems per 100 vehicles (PP100).
As we mentioned, Kia did better than the 2020 industry average with only 132 PP100 compared to the average 136 PP100. So, you know this model is going to be a safe, dependable choice for your family.
---
2021 Sorento Engine Power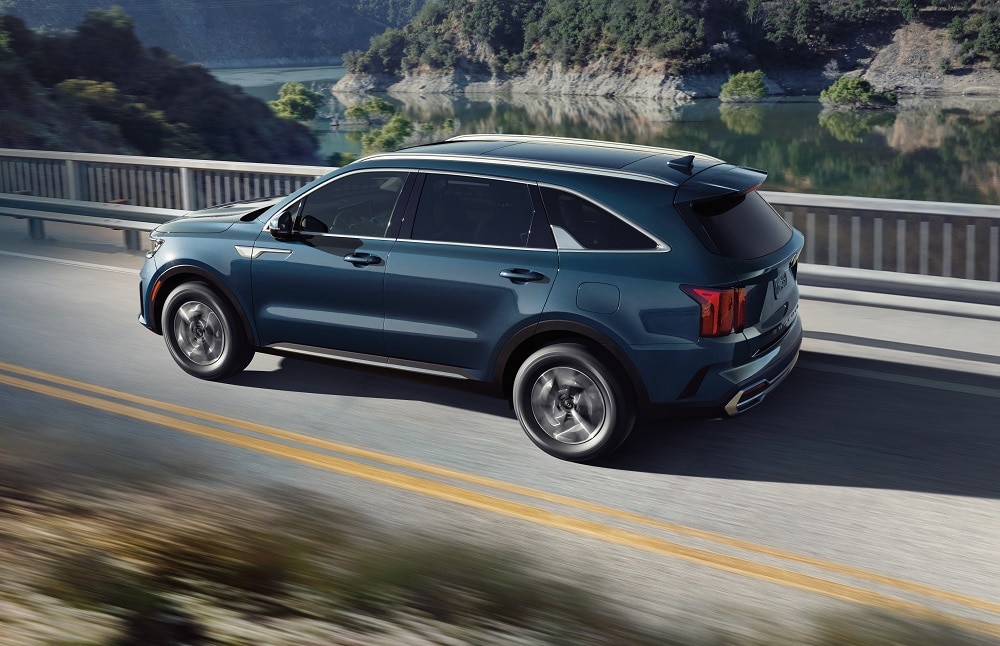 Before we discuss the fuel efficiency of the Sorento, it's important to know exactly what powers it. You'll choose from three different engine options, allowing you to call the shots when it comes to what fits your driving needs.
2.5L 4-cylinder engine: Standard on the Sorento, this engine produces up to 191 horsepower and 181 lb-ft of torque. This not only provides you with ample power, but seamless handling with its paired 8-speed automatic transmission. Plus, it lets you tow up to 2,000 pounds!
1.6L Turbocharged 4-cylinder gas engine and 270-volt Full Parallel Hybrid System: Combined, this hybrid system has an output of 227 horsepower and 258 lb-ft of torque. Combined with a 6-speed automatic transmission, this hybrid engine can tow up to 3,500 pounds.
2.5L Turbocharged 4-cylinder engine: It amps things up with a whopping 281 horsepower and 311 lb-ft of torque and is paired to an 8-speed dual-clutch automatic transmission. When properly configured, its towing capacity is also more, maxing out at 3,500 pounds.
As you can see, these engines each offer their own benefits, depending on the amount of power and engine size you're aiming toward. Plus, you can determine the performance of your Sorento based on which engine you choose.
---
Kia Sorento Drive Modes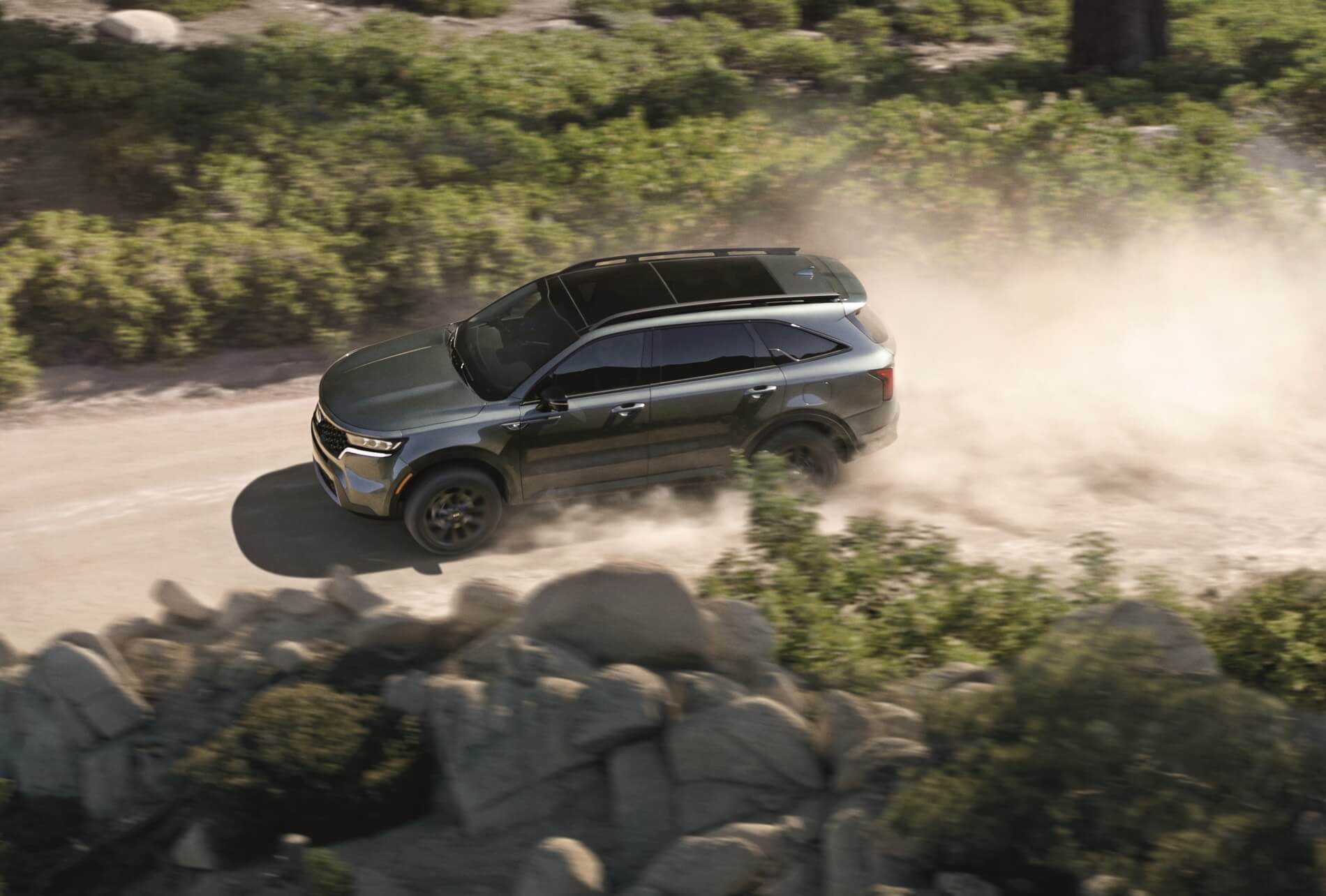 The Kia Sorento comes standard with front-wheel drive across all of its trims. So, what is front-wheel drive?  It's a 2-wheel system that focuses engine power on the two front wheels. Front-wheel drive vehicles usually weigh less than all-wheel drive vehicles, and the drive system is a bit more compact.
All-wheel drive is just how it sounds, it affects all four wheels of your vehicle. The Kia Sorento has available all-wheel drive on many of its trims. It's called the available Adaptive All-Wheel Drive with Lock Mode. It's a system that elevates traction to make driving in snowy, slick, or off-roading conditions a breeze. You'll maintain traction and control while your Sorento automatically distributes power to the wheels.
If you opt for this all-wheel drive for the Sorento, you'll also have the option of choosing the all-wheel drive package. This package includes increased ride height and snow mode to your Drive Mode Select system and more.
When you drive your Sorento, it comes standard with multiple driving styles depending on how you want to drive that day. This gives you the flexibility to adapt not only to different road conditions, but find your driving preference. The standard drive modes offered are ECO, SPORT, COMFORT, SMART, and CUSTOM. CUSTOM allows you to customize your drive mode and experience.
---
Kia Sorento MPG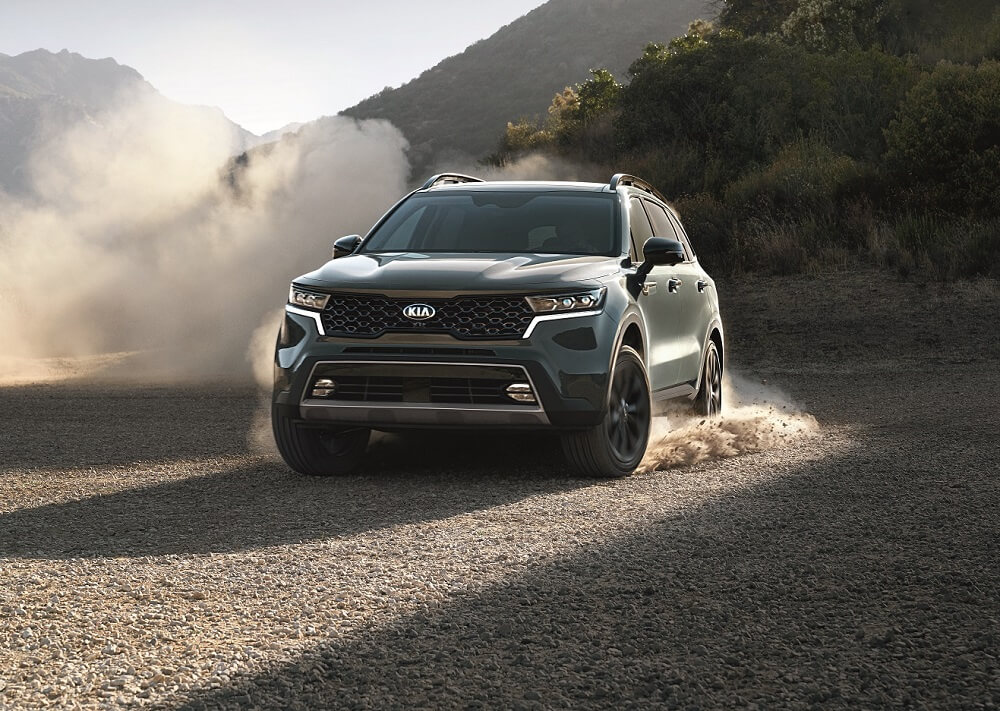 Now, let's talk about one of our favorite aspects of the 2021 Kia Sorento: its impressive fuel efficiency. We've gone over the engine options you can choose, and each one varies slightly in how many Miles Per Gallon you'll achieve.
If you opt for the base 2.5L 4-cylinder engine of the Sorento, you'll be met with a standard EPA-estimated fuel economy of 24 city/29 highway/26 combined MPG.* This is perfect for limiting trips to the gas station.
This engine is also available with Adaptive All-Wheel Drive with Lock Mode. When you opt for this system on the LX trim, you can expect an EPA-estimated fuel economy of 23 city/25 highway/24 combined MPG.*
If you choose the more powerful 2.5L turbocharged 4-cylinder engine, you can also expect a respectable EPA-estimated fuel economy. With an EPA-estimated 22 city/29 highway/25 combined MPG, you can stay on the road for longer.* Pair this available engine with AWD capabilities, and you'll see an EPA-estimated fuel economy of 21 city/28 highway/24 combined MPG.*
If you choose the Hybrid Sorento model's 1.6L Turbocharged 4-cyl and Full Parallel Hybrid System, you'll get an EPA-estimated 39 city/35 highway/37 combined MPG.*
Engine

Estimated FWD MPG*

Estimated AWD MPG*

2.5L 4-cyl

24 city/29 highway

/26 combined

23 city/25 highway

/24 combined

2.5L Turbocharged 4-cyl

22 city/29 highway

/25 combined

21 city/ 28 highway

/ 24 combined

1.6L Turbocharged 4-cyl and Full Parallel Hybrid System

39 city/35 highway

/37 combined

__
Based on these numbers, the Sorento stands out in its class no matter which engine you choose. You'll love how much time and money you'll be saving at the pump with these MPG ratings, making your family commutes and vacation travel time much more efficient!
---
How to Get a Better MPG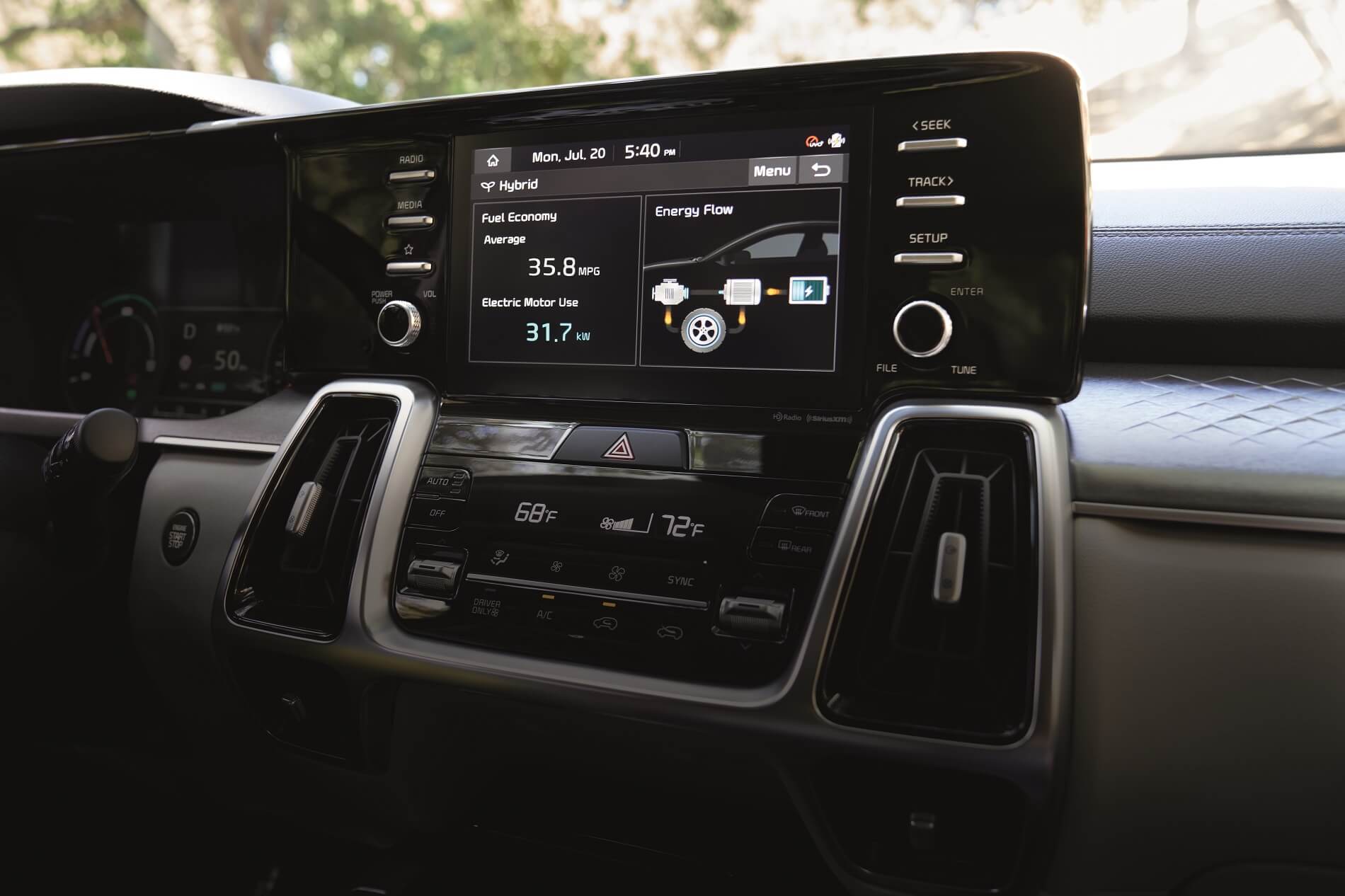 Though the Sorento proves it's a top runner in fuel economy, it can benefit from some driver wisdom every now and then. By practicing smart driving habits and responsible ownership, you can keep your estimated MPG ratings at their highest. Here are some tips for doing just that:
Changing Your Oil When Recommended (every 7,500 miles)-Keeping up to date with your oil changes helps your engine run better. Oil lubricates and cools down your engine, so it runs better and uses less fuel.
Limiting Heavy Weight when possible (for both towing and cargo)-Extra weight in, on top of, or towed behind your vehicle, makes your Sorento use more gas to get up to speed than it would without this extra weight.
Avoid Excess Idling-Turn off your engine to save gas while you're waiting for a friend or family member. While your engine is on, your vehicle uses gas, so save some gas and turn off your engine.
Ensuring Your Tire Pressure Is Correct (utilize the Tire Pressure Monitoring System in the Sorento!)-When your tire pressure is correct, and your Sorento will tell you if your tires need some air, you use less gas because your vehicle does not have to compensate for underinflated tires.
Taking the Most Efficient Routes (the Kia Sorento features an available navigation system, which helps)-Use the available navigation feature to find the fastest route, so you take less time on the road and use less gas to get there.
---
Test Drive the 2021 Kia Sorento Today!
If you'd like to learn more about the Kia Sorento MPG, as well as what else this Kia SUV has in store for you, the best way is to see it for yourself by scheduling a test drive.
Drivers in the Harrisburg, Mechanicsburg, and Carlisle, PA, area, can contact us at Fred Beans Kia of Mechanicsburg to schedule an appointment at any time!
*EPA fuel economy estimates. Actual mileage will vary with options, driving conditions, driving habits, and your vehicle's condition.