Drivers know that oil changes are important. Without engine oil, the vehicle would break down and possibly even catch fire. It's a lot safer and cheaper to schedule regular oil changes.
If you're looking for an oil change near me, consider heading to Fred Beans Kia of Mechanicsburg. We have the tools and the experience to perform quick and professional oil changes so you can get back behind the wheel.
Top Warning Signs You're Overdue for An Oil Change
 If you can't remember the last time the engine oil was changed, there are other ways to determine if an oil change is needed. Use two of these methods to verify that an oil change is needed. One way is to look for an engine oil warning on the dashboard. Not sure which symbol that is? Check your owner's manual. Finally, take a look at the engine oil for yourself. All it takes is a read of the car's dipstick.
Do You Really Need an Oil Change?
Taking a look at the quality of the engine oil is a great way to tell if you need an oil change. If the dipstick reveals engine oil that's dark or sludge-like, then your oil is no good. That means it's time to get the oil changed. Occasionally, the check oil light will come on when the oil is still in relatively good condition. Visual inspection is the best way to see if your oil needs to be replaced.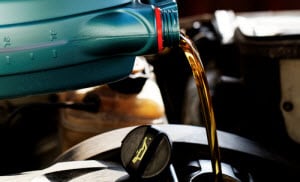 You can also check the service and oil change sticker. Reputable service centers will place these on the windshield or dashboard after your last service appointment. This is the perfect place to find out when you might need another oil change.
Finding an Oil Change Near Me
Do you need an oil change? We can help! Our service center is fully equipped to offer speedy oil changes as well as a host of other automotive services.
We can help you schedule an oil change appointment.
Additional Resources: