Here at Fred Beans Kia of Mechanicsburg, we know that the drivers in Harrisburg and Mechanicsburg loved the 2017 Kia Optima. Well, in that case, we have some good news for you. Based on what we've seen of the 2018 Kia Optima so far, we think you're going to love it even more. Believe us!
We wrote this car review to give you a better sense of what to expect, regarding categories like design, technology, performance, etc. If you have any further questions, don't hesitate to get in touch with us.
Shop new Kia Optima vehicles available today!
New Kia Optima Design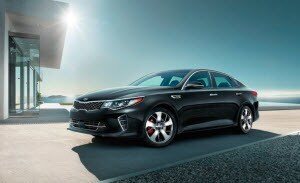 At this point, here's what we can tell you about this hot, new sedan's design. In terms of the exterior, it's expected to keep all the elements of the previous year's Optima that you've come to love. We're talking about well-defined, sleek contours, 16-inch alloy wheels, automatic headlights-the whole nine yards!
That's not even to mention the car's sporty rear, which includes two elliptical exhaust pipes, its iconic Kia symbol, and wraparound tail lights. It's one that looks just as good pulling away as it does pulling up.
2018 Kia Optima: Technology
In terms of cabin technology, the 2018 Optima is projected to do very well in that department as well. Do you want the specifics? Well, how about keyless entry, a rearview camera, Bluetooth® connectivity, a sophisticated five-inch digital touch display, and a six-speaker audio system? Still, the good news doesn't stop there.
If you'd like even more features, you can upgrade to one of three packages: Convenience, Convenience Plus, or Driver Convenience. Either way, the 2018 Kia Optima should have you covered. That's so cool! 
2018 Kia Optima: Performance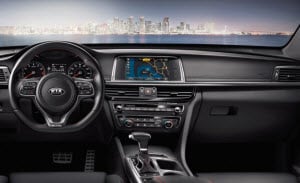 Last year's model was famous for giving drivers three different powerful engine options. There was a 2.4L four-cylinder engine that delivered up to 185 horsepower and 178 lb-ft of torque; an available eco-friendly 1.6L engine that generated as much as 178 horsepower and 195 lb-ft of torque; and a top-of-the-line 2.0L engine that slammed home 245 horsepower and 260 lb-ft of torque. Amazing!
We're confident that the 2018 Kia Optima will put similar options on the table. We even think it'll continue the Optima Hybrid and the Optima Plug-In Hybrid models, with their unparalleled efficiencies.
Test Drive The New Kia Optima Soon at Fred Beans Kia of Mechanicsburg!
Whoa! That's quite exciting. But the great news is that the 2018 Kia Optima will hit our showroom soon. With that in mind, if you live in Harrisburg, Mechanicsburg, or any of the nearby Pennsylvania cities, the Kia Optima test drive is only a short drive-a phone call or an online form, too-away. Contact us today!