Having the tires on your car rotated is a basic form of automotive maintenance, but do you know how often you should have the tires rotated? In this article, our team at Fred Beans Kia of Mechanicsburg will help drivers from across the Mechanicsburg and Harrisburg areas discover when they should be rotating their tires.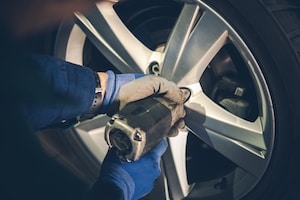 Tire rotations are important because it helps the tires wear more evenly, which can provide better traction control and stability. If you think your tires need to be rotated, keep reading to find out whether you should schedule a service appointment.
What Is a Tire Rotation?
No matter what condition the roads you drive on are in, they'll eventually wear down your tires. However, roads that are in poor condition will wear down your tires much faster than roads that are well paved and free of holes and debris.
In most cars, the front wheels tend to wear down faster than the rear pair. That's because most of the weight is in the front of the car. If you drive a vehicle that has the engine in the rear of the car or uses rear-wheel drive, then the rear tires may likely wear out faster than the front tires.
Even your brakes play a part in wearing down your tires. When you apply the brakes, it puts additional pressure on the front tires. Vehicle manufacturers recommend that you rotate the tires regularly so they wear evenly.
Why Tire Rotations Matter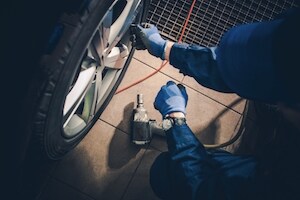 Having a tire rotation performed by a certified technician can help your tires last longer and perform better. You'll also enjoy the benefit of not having to buy new tires as often. All the technician has to do is take the front tires and put them in the back of the vehicle, put the back tires at the front of the vehicle, and make sure to switch corners. The process doesn't take long at all and it could save you hundreds of dollars.
Finally, a tire rotation is also a great opportunity for your technician to visually inspect the condition of your tires to make sure they are safe to drive on. Old, worn out tires don't provide as much traction and could be dangerous. By receiving regular tire rotations, you're helping ensure the safety of you and your passengers. No matter what you do, though, your tires will wear down over time. And so, a tire rotation can help your tires last longer.
When Should You Have Your Tires Rotated?
The basic rule is to have the tires rotated at every other oil change. You can also rotate them more frequently at every 3,000 to 8,000 miles. Either way, you want to make sure you're keeping up with the rotations regularly and being consistent. If you'd like, you can also consult the owner's manual that came with the car. In addition to other care information, the owner's manual will specify the recommended tire rotation interval.
If you're in the Mechanicsburg and Harrisburg areas and think it's time to have your tires rotated, please contact us at Fred Beans Kia of Mechanicsburg to schedule a service appointment. Our team of certified technicians will rotate your tires quickly and inspect them for signs of damage. That way, you can be sure your tires are safe.