If you're looking for a quality sedan to drive through the streets of Mechanicsburg and Harrisburg, you've got a lot of options to choose from. Sedans are the most popular class of car in the country. With such a competitive market, every manufacturer wants to get at least one model in the race. This can make finding the right one for your needs challenging.
To ease your search, we've taken two of the best sedans available and put them against each other. The 2018 Kia Optima and the 2018 Mazda 6 are both great choices for your next sedan, but you deserve only the best. Learn more about the differences between these stunning vehicles in our Kia Optima vs Mazda 6 comparison.
Kia Optima vs Mazda6: Performance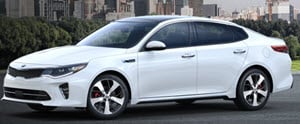 When you drive, it shouldn't be just about getting to your destination. Why not have some fun with it? Both sedans offer incredibly similar horsepower at their base models with the Kia Optima beating the Mazda 6 by a single point at 185 horsepower against 184 horsepower.
However, the Mazda 6 is stuck with its 4-cylinder 2.5-liter engine. The Optima's can be upgraded to a 2-liter turbo 4-cylinder capable of producing an incredible 245 horsepower. With all that extra power, passing on the highway and having fun while you drive is easier than ever.
Kia Optima vs Mazda6: Interior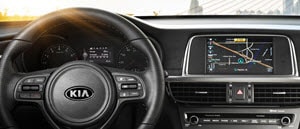 You'll find a comfortable ride no matter which sedan you choose, but the Optima offers a bit more. Up front, you can enjoy 39.8 inches of headroom and an incredible 45.5 inches of legroom. Few other sedans can even come close to that amount of legroom. The Mazda 6 can only offer 38.4 inches of headroom and 42.2 inches of legroom.
If you're more interested in trunk space, the Optima has the advantage again. In the back, you can store up to 15.9 cubic feet of cargo while the Mazda 6 can only hold 14.8 cubic feet. Despite the Optima having more interior space, it's easier to handle only needing 35.8 feet for its turning diameter while the Mazda 6's turning diameter is a minimum 36.7 feet.
Kia vs Mazda: Safety
One of the most important parts of any vehicle is its safety regardless of what you use it for. Both the Optima and Mazda6 have incredible driver assistance features like autonomous emergency braking and blind spot detection, but only the Kia Optima features these systems standard.
In addition, the 2018 Optima performed better in overall crash tests earning a perfect 5 stars in every category. In contrast, the Mazda 6 only earned 4 stars with its rollover rating indicating that this sedan is slightly top heavy.
Which is Better? Kia Optima vs Mazda 6
After looking at all features of both these vehicles, the 2018 Kia Optima emerges as the better choice. If you want to truly understand all the Optima can offer, you'll have to experience it for yourself. At Fred Beans Kia of Mechanicsburg, you can. Our friendly team would be happy to let you take the new Kia Optima for a spin. They can show you the ins and outs of this incredible sedan, so you can figure out if you want to drive this car around the Mechanicsburg and Harrisburg areas for years to come. Give us a call to schedule your test drive today!