Whether you're taking a car full of kids to practice or heading off for a week down the shore, the midsize SUV has something for you. The 2018 Kia Sorento and 2018 Hyundai Santa Fe make for two great options in this category for your daily commute around the Mechanicsburg and Harrisburg areas.
Fred Beans Kia of Mechanicsburg compared the two vehicles to see which one was best at meshing style and function and present the results to you here.
2018 Kia Sorento

2018 Hyundai Santa Fe

EPA-Estimated City Fuel Economy

21 MPG

18 MPG

EPA-Estimated Highway Fuel Economy

28 MPG

25 MPG

Eco-Assist System

EcoMinder®

Not Available

Standard Drivetrain

Front-Wheel Drive

Front-Wheel Drive

Optional Drivetrain

Dynamax™ All-Wheel Drive

All-Wheel Drive
2018 Kia Sorento vs Hyundai Santa Fe: Fuel Economy
Both the Kia Sorento and Hyundai Santa Fe will get you where you need to go, and they'll do it with a healthy dose of power, however, the Sorento is more likely to get you there with less pit stops.
The Santa Fe gets an EPA-estimated 18 MPG in the city and 25 MPG on the highway, which is pretty impressive. The Sorento, however, boasts a 21 MPG city and 28 MPG highway fuel economy.1
Even more, the 2018 Kia Sorento comes standard with the EcoMinder® fuel-efficiency indicator. This indicator tells you when your vehicle is operating at optimal fuel economy, so you can adjust your driving technique as necessary for maximum efficiency. The Santa Fe does not offer this kind of system, so drivers have to monitor the efficiency of their driving technique on their own.
With an evenly-matched fuel tank capacity, the Sorento appears much more likely to take you a rest stop or two further on the turnpike.
2018 Kia Sorento vs Hyundai Santa Fe Handling Capabilities
Both SUVs come standard with front wheel drive (FWD) and offer an available all wheel drive (AWD) for all trims.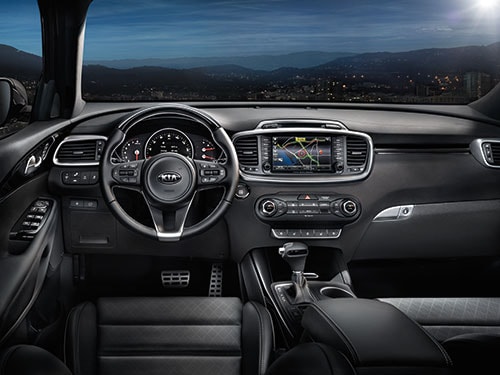 The Sorento, however, amplifies its available AWD with Dynamax™, which includes a locking center differential to improve low-speed traction during treacherous driving conditions. It also features Torque Vectoring Cornering Control. This system uses sensors to correct under-steering during cornering, so you can feel free to take the winding scenic route to your destination.
The AWD available in the Hyundai Santa Fe offers standard stability controls but does not offer the enhanced Dynamax™ features, so drivers may not feel as secure on rough terrain or in inclement weather.  
SUV Infotainment
If you want to play music, tune in to your favorite podcast, or listen to an audiobook, both the Sorento and Santa Fe offer Bluetooth® hands-free connectivity and available Android Auto™ and Apple CarPlay™.
The Kia Sorento, however, features an available infotainment system, called UVO, that uses voice commands to control the included tools:
Navigation
Phone and texting
Parking Minder
Vehicle diagnostics
Curfew limit
Hyundai has an app that connects to your vehicle for diagnostics and parking information, but it doesn't feature the full infotainment suite like UVO does. So, drivers can't access app info on their touch-screen display or use voice commands to activate features.
Take the 2018 Kia Sorento out on the Road
When we compared the 2018 Kia Sorento vs. the 2018 Hyundai Santa Fe, we found that the Sorento came out ahead regarding fuel economy, handling, and infotainment.
If you want to give the 2018 Kia Sorento a test drive around Mechanicsburg and Harrisburg, come to Fred Beans Kia of Mechanicsburg today and we'll get you behind the wheel. Go ahead and schedule your test drive now!
1.EPA fuel economy estimates. Actual mileage will vary with options, driving conditions, driving habits, and your vehicle's condition. These estimates reflect EPA's revised coefficients beginning with some 2017 models.