The Kia Soul is a great car for getting around in any setting. It's a versatile and convenient ride with a unique style that stands alone. You'll want to keep it going long term, so it's important to get it serviced regularly.
Fred Beans of Mechanicsburg wants to help drivers in Harrisburg and Carlisle keep up with maintaining their car and know when to take it in for service. That's why we put together this Kia Soul maintenance schedule.
Every 7,500 Miles
Your first trip back with your 2018 Kia Soul will be when you hit 7,500 miles. Service technicians will inspect a lot of your parts and systems during your first maintenance visit.
Your cooling system, suspension, air cleaner filter, drive shaft, battery, and the entire brake system will be visually inspected every time you come in.
As far as work done, you'll get your tires rotated and have your first oil change. Along with that, your oil filter will be replaced.
Every 15,000 Miles
When you come back with 15,000 miles on your Kia Soul, you'll get the same oil change and inspection that you did last time. Only now the climate control filter will have to be replaced too.
To double check that all the parts are still holding together securely, your inspection this time will include looking at all the latches, hinges, and locks.
Every 30,000 Miles
By the time you hit 30,000 miles, you'll have had your oil changed a few times and your car's systems checked out regularly.
This time around you'll get your air clean filter replaced, as well as your regular climate control filter and oil filter replacements.
Every 45,000 Miles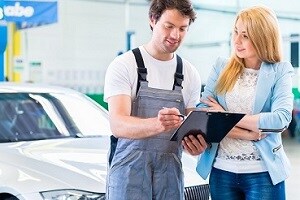 At 45,000 miles you'll get your oil changed and all your systems, hoses, and parts visually inspected again. From your battery to your brake pads and exhaust system, service technicians will continue to make sure everything is looking good.
In addition to your various filters, your spark plugs will have to be replaced during this appointment.
Every 60,000 Miles
When you pass 60,000 miles, your Kia Soul will get all the same looks and work it got at 30,000, but with one more main part getting examined. Technicians will visually inspect your drive belt to make sure it's still holding up and running properly for you.
Every 120,000 Miles
Congratulations on putting well over 100,000 miles on your 2018 Kia Soul! This is a big milestone! On this maintenance trip, Kia service technicians will aim for getting you ready for the next 120,000 miles.
To keep everything running in top shape for the road ahead, your car will continue to get all its parts from the fuel cap to drive belt, and systems from brakes to electrical looked at.
You'll once again get all your filters replaced and your oil changed, but on this trip your engine coolant will also be replaced.
Kia Service Center
Fred Beans of Mechanicsburg is proud to provide a team of factory-trained ASE-certified technicians to help drivers in Harrisburg and Carlisle.
To learn more about the 2018 Kia Soul maintenance schedule, contact us or schedule service online to get your maintenance appointment set up.