If you need extra storage capacity in your vehicle, whether it be for cargo or passengers, an SUV is the clear choice. The next question, however, is how big do you want your vehicle to be? Crossovers are smaller, but incredibly popular and easy to drive. On the other hand, midsize SUVs offer a lot in terms of comfort and power. So, how can you know which one is right for you?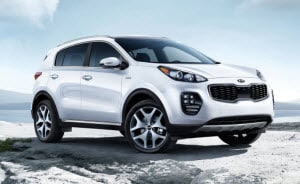 The 2018 Kia Sportage and the 2018 Kia Sorento are some of the best examples of crossovers and midsize SUVs, respectively. They both have a lot to offer, but only one can be right for you. Consult this detailed comparison to discover which of these brilliant SUVs is best suited for your needs.
Performance
If your primary concern is raw power, the 2018 Kia Sorento might be the way to go. At their base models, the Sportage and the Sorento have around the same horsepower, with the Sportage getting 181 horsepower while the Sorento gets 185 horsepower. However, you can opt for a turbo engine in the Sportage for 237 horsepower. While impressive, it doesn't match up with the Sorento's available 290 horsepower V6.
As you might expect with all that power, the Sorento sacrifices fuel efficiency. While its EPA-estimated 19 mpg combined is good for a vehicle with that much power, the Sportage offers an EPA-estimated 21 mpg combined at worst. At its best, that number goes up to 23 mpg combined.
Interior
Interior space is likely one of the main reasons you bought an SUV in the first place. While both of these have plenty of interior space to offer, the Sorento tends to have more. Up to seven people can fit into the Sorento on corresponding trim levels while the Sportage always maxes out at five.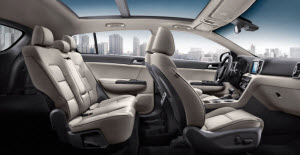 With the third row up, however, the Sorento suffers in terms of rear passenger footroom. They only get 31.7 inches while the Sportage rear passengers get 38.2 inches. The driver, however, always has more room in the Sorento with 39.5 inches of headroom and 44.1 inches of legroom. The latter differs from the Sportage's measurements by nearly four inches.
Safety
When you're taking your family or friends along with you on a trip, the most important thing you need to worry about is their safety. Fortunately, Kia has outfitted both the Sportage and the Sorento with outstanding safety features. In terms of crash test ratings, both of these SUVs received an overall rating of five stars.
In addition to being well-constructed, both vehicles include advanced driver assistance features. Systems like lane keep assist, blind spot monitoring and forward emergency braking can grant you peace of mind in what might be the easiest driving experience you've ever had.
Test Drive the Sportage and the Sorento
If you're more into power and have children that can squeeze in the back, the Sorento is the choice for you. If you want fuel efficiency and versatility, however, the Sportage is the way to go. Which is best for you largely depends on what you value. Reading about these vehicles will only get you so far, though. To fully understand what each can offer, you need to experience them for yourself.
Fred Beans Kia of Mechanicsburg invites all Mechanicsburg and Harrisburg drivers to test drive the 2018 Kia Sportage and the 2018 Kia Sorento. Visit us or give us a call to schedule your test drive today!