As a dedicated dealership serving the communities of Harrisburg and Mechanicsburg, we want to make sure you have everything you need to make your daily routine easy and enjoyable. To accomplish this goal, we provide informational guides like this one to help you detect issues in your vehicle.
Read ahead to learn more about the five distinct signs you may experience when your brakes need to be replaced.
1. Dashboard Brake Light is On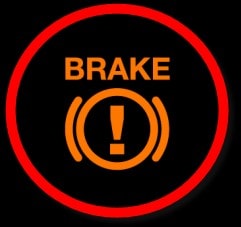 Arguably the most obvious way your vehicle lets you know there's an issue going on with your braking system is by lighting up the brake light on your dashboard. The purpose of this light and its other light companions is to communicate an issue to you, but it isn't always clear what could be causing the issue.
If you see your brake light come on, it's best to get your brake system checked out by a professional, so you can have your brakes replaced when they need to be.
2. Unusual Noises
When the brakes of your vehicle need to be replaced, they can make several sounds to warn you in advance. If you hear screeching, grinding, squeaking, or chirping, it's more than likely that your brake pads are worn down and past a safe limit.
Worn-down brake pads can cause further problems because they create friction between the brake rotors and calipers, causing damaging overheating and corrosion.
3. Vibrating Brake Pedal
Generally speaking, no part of your vehicle should vibrate unless you're going over some bumps on the road. This also applies to anything to do with the brake system. If your brake pedal is vibrating when you press down on it, it could be a sign that you need to have your brakes replaced.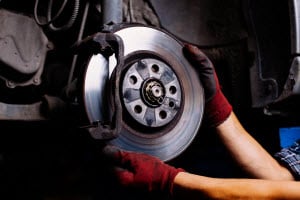 This could be a result of several different things. Your braking system may have been damaged during towing or hauling too much weight. It can also be caused by a warped brake rotor. Both instances will require a brake inspection and possible replacement.
4. Increased Brake Time
The amount of time it takes you to come to a complete stop can be affected by the quality of your brake pads. If your brake pads are worn down, it can take longer than anticipated for your vehicle to stop safely and can cause an array of damages.
If you feel like it's taking longer than it should for your vehicle to stop, you should have your brake pads looked at. Potentially, you may need to have your brakes replaced.
5. Side-to-Side Pulling
When you're driving and you feel your car being pulled side to side, it may be a result of a few different issues going on in your braking system. You could have a collapsed brake hose or uneven brake pads. You could also have a brake caliper that's stuck. It could even be caused by poor alignment.
No matter what is causing this pulling, it can have dangerous effects on your driving and should be looked at immediately.
Get Your Brakes Replaced Today
We at Fred Beans Kia of Mechanicsburg know how important your vehicle is to you. That's why we've not only created this troubleshooting guide to your braking system, but also offer an array of repair services for your brakes and much more.
Reach out to our dealership, which is easily accessible from the communities of Harrisburg and Mechanicsburg. We'd be happy to provide more information or schedule you for a brake repair appointment today.